There are many things in the world that bring happiness: money, comfort, beautiful outfits, travel. But a separate place in the life of everyone is art. Art has the power that can free us from bad thoughts and relieve anxiety. It helps us to know and realize three realities: this world, other people and the reality of ourselves. Sometimes art does not bring us relief. The story can be frustrating, the picture can disturb, the music saddened. But at the same time, art arouses feelings, "glows" them and helps to see something important.
New museum and cultural centers are opening in Nur-Sultan. However, at the moment there are few museums in the city, but this is if you count only buildings. In fact, in one museum there are several collections of various themes can be collected at once.
Once a week or once a month in the capital, new exhibitions, master classes and other events are announced. Usually they are held in art museums or art spaces. Here is a list of places you can visit.
Museum of Modern Art of Astana
The Museum of Modern Art, formerly known as the Akmola Regional Museum of Fine Arts, was opened for wide access on October 2, 1980 in honor of the 25th anniversary of the development of fallow lands. For all the years of existence, the funds were replenished with the work of the Directorate of Art Exhibitions, the donations of artists and collectors, whose life and work are closely connected with the city, as well as through the purchase of various works by local authors.
The museum's collection has more than 3,000 works. Among them are truly unique works of artists from many different countries. The museum's collection is represented by all genres of fine art, the subjects of works and the technique of work are diverse.
Location: Republic 3, Avenue
National Museum of Kazakhstan
The construction attracts attention with its unusual external appearance and harmoniously fits into the nearby architectural ensemble, which includes several buildings and a monument of national importance.
The museum has a hall of history, Kazakhstan history, ethnography, Hall of Astana, Hall of Gold, showroom and the hall of modern art. Art works of Kazakh masters are exhibited here - paintings, graphics, lithography, installations and much more.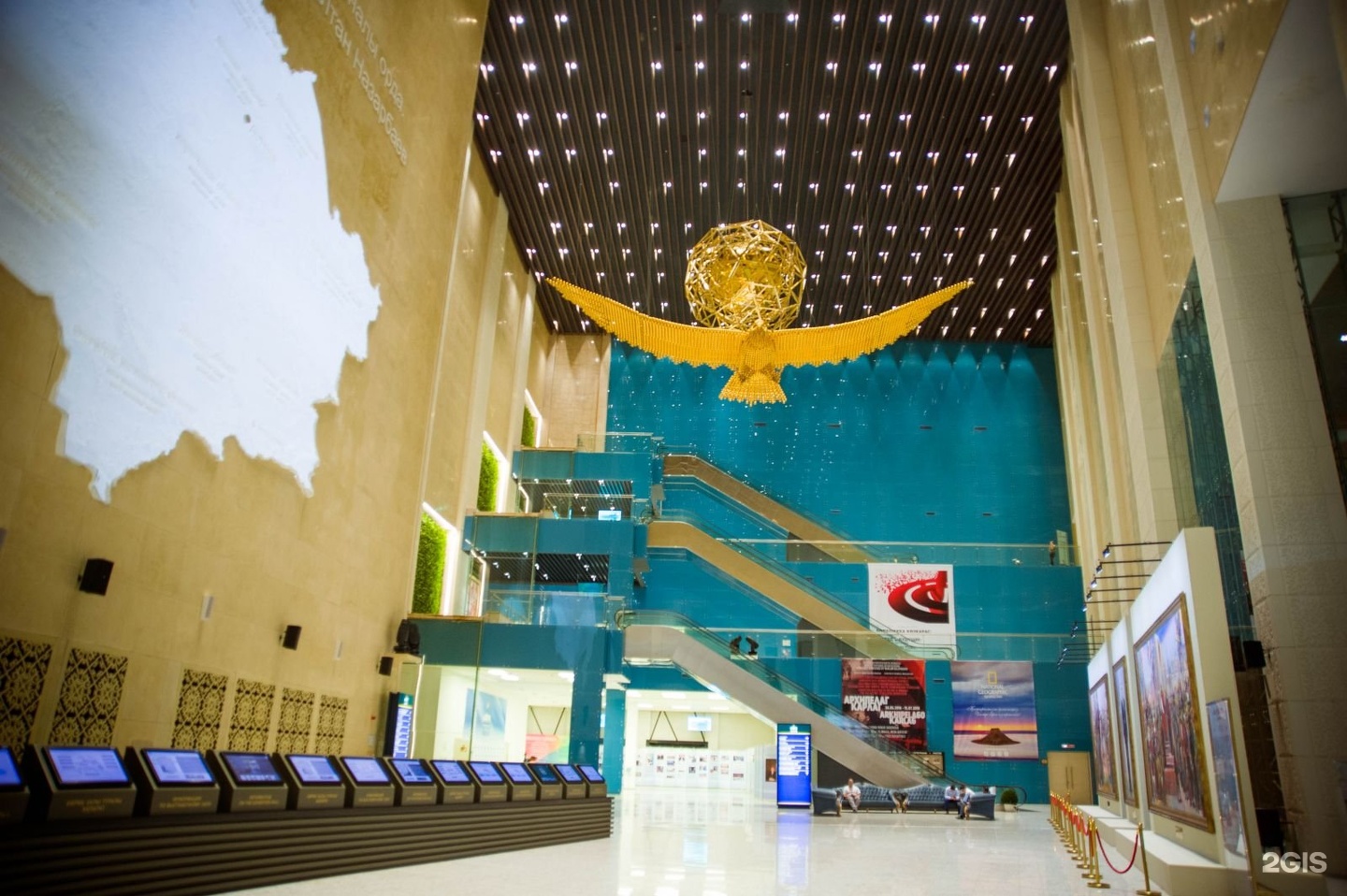 The most amazing exhibit is the "Issyk Golden Man", discovered in 1969-70. during the excavation of the Issyk barrow and known today to the whole world. "Saki warrior in golden robes" is a real Symbol of Kazakhstan, therefore, its copies and sculptural compositions can be found in different cities of the Republic.
Location: Tauyelsizdik 53 Avenue
Palace of Peace and Concord
In few minutes walking distance from National Museum, in the Presidential Park, is the Palace of Peace and Concord. The Palace has Conference rooms, opera hall, offices and prayer rooms for representatives of 32 religious denominations, press Center, banqueting hall, University of Civilizations, Library of spiritual and religious literature, Research Center of World Religions, Center for Contemporary Art "Kulanshi", a restaurant and off course an art hall.

Exhibition rooms host copies of works of art, temporary exhibitions and creative meetings are organized, which are visited by artists of the republic and other states.
The Center for Contemporary Art holds exhibitions of Kazakhstani and foreign artists, as well as popularizes Kazakhstani contemporary art abroad. The center also has fine art studios for adults and children. Those who wish can get knowledge and skills in drawing, painting and composition. The workshops regularly held at the Kulanshi Center for Contemporary Art are very popular among students and young artists of Astana.
Location: Tauyelsizdik 57 Avenue
TSE Art Destination
This is an art site located in the historical center of Astana, which combines a gallery of modern art, an educational center, an experimental laboratory, an art shop and an art cafe.
TSE art destination is a cultural space where the audience, artists, professionals from different fields interact and create new experiences, where everyone has the opportunity to learn contemporary art through exhibitions, performances, as well as educational and informational programs.
Location: Republic 33, Avenue
PlatformA
This is an art space where art performances, Shows, exhibitions and movie screenings are held. This is the first experimental platform in Astana, where everything takes place in a free format. Anyone can come here and offer projects to them.
Location: Business Center "Moscow", 2nd floor, Dostyk, 18.