After the collapse of the Soviet Union, the city and the spaceport passed to Kazakhstan, but all rockets with space equipment remained to Russia.The future of the spaceport was in doubt. Many specialists and workers left Baikonur. In 1994, Russia and Kazakhstan came to an agreement on Baikonur: the city and the spaceport were rented to Russia till 2050. Therefore, in Baikonur is Russian legislation in force and Russian rubles are used as the currency. Even though Baikonur is located in the Kazakhstan territory and not a secret object anymore, in order to enter the city and spaceport you need to get resolution from Roscosmos. Roscosms is an organization that is responsible for Russian space industry. To get a resolution you need to fill a special form on a website of Roscosmos with your personal information, copies of your documents and the dates of the trip. You can get to Baikonur by plane, train and car. The only direct flight is from Moscow (Domodedovo Airport - Krainy Airport) three times a week. Or you can flight to Kyzylorda town and get by bus or train to Baikonur.
Actually, most of the tourist are coming to Baikonur by tour agencies. Because that is the only way how you can see the rocket launch. Usually the price for 2 days' tour for one adult cost for about 90.000 tenge (the cost includes transfer, hotel, guide and spaceport visit). Also, you can visit the Space Museum that is located on Pionerskaya, 16 Street. Many exhibits, photographs, spacesuits, real elements of rockets are presented there. The museum is large and a full museum tour can take more than 5 hours.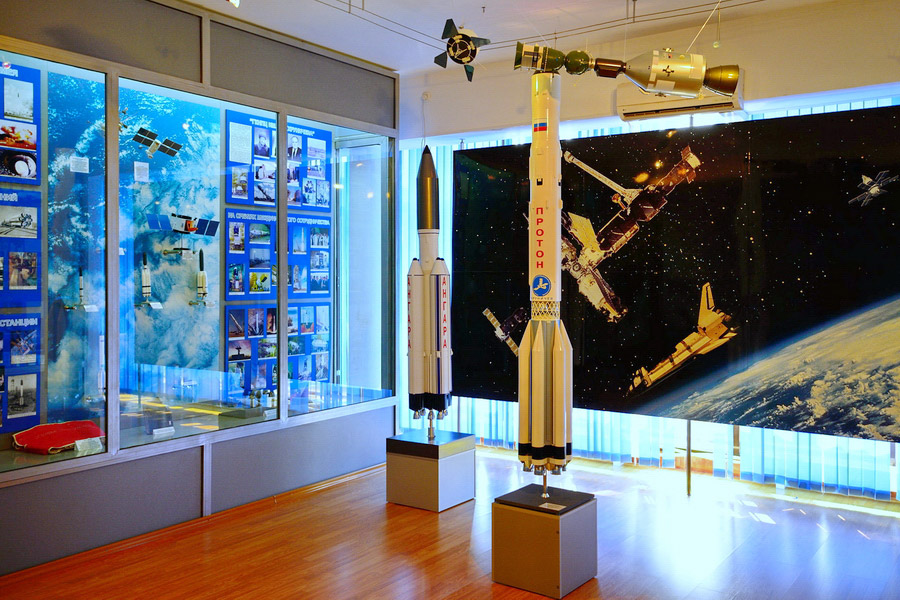 All monuments in Baikonur are related with the space. The first monument that you will see on the way in a city is Gagarin Monument. The astronaut is sculptured with his hands raised up to the sky. Near Gagarin monument there is the model of the Rocket "Soyuz" located nearby. At first, it was used for trainings at the spaceport. In 1981 the model was removed to the city for the 20th anniversary of the first space flight. Also, there a monument of the rocket scientist Mikhail Yangel.
Then, you can visit monument of Korkyt-Ata that is located in 60 km from the city. It is a 15 meters' monument with 3 tall steles, which have recesses on the central side, they form the silhouette of a kobyza (Kzakh national musical instrument), and in the central part there is a sculpture of Korkyt-Ata himself riding a camel. Korkyt-Ata was a thinker, philosopher, poet and composer. Muslim pilgrims usually visit this place.